Patient Testimonial
See Dr. Yousuf's profile on Healthgrades.
Dr. Yousuf and his team provided me the absolute best medical experience of my life. From first visit to post op follow up after my total knee replacement the skill of Dr. Yousuf and his team provided expert medical service, constant communication and information and personal touch care that is rare these days.
I am now 6 months past my right knee replacement and am so pleased and excited about the limitations that have been removed so I can lead a more active life. I recently had an injury to left knee. Without hesitation I made an appt. with Dr. Yousuf. Thinking that he would immediately recommend surgery I was again so happy to find that Dr. Yousuf was very careful with his examination and consultation and actually recommended that I not have a surgical procedure but try alternative solutions first. Very Impressive!. I give my 100% endorsement of Dr. Yousuf for any knee problems you might be having. You will be glad you selected him.
- Bruce J
South Side Man Dancing Irish Jig After Successful Knee Replacement at Little Company of Mary Hospital
Source: patch.com
Eighty-six year-old John Meskill has new lease on life thanks to Little Company of Mary's bone and joint program.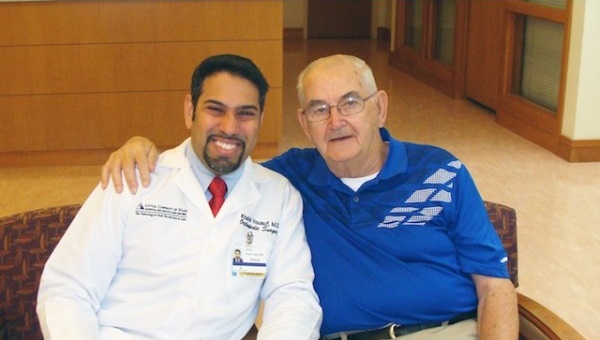 Photo: Khalid Yousuf, M.D., Orthopedic Surgeon at LCMH with John Meskill, satisfied patient. | Provided
John Meskill, 86, born and raised in Ireland, has been living in Chicago's southwest community since 1954, when he came to the U.S. and married his wife, Bridie.
For years, John experienced severe knee pain caused by arthritis, making it difficult for him to perform day-to-day activities. This past August, John underwent a total knee replacement at Evergreen Park's Little Company of Mary Hospital.
Last spring, John decided to meet with his primary care physician, Richard Farrell, M.D., Internal Medicine at LCMH, to discuss his ongoing knee pain and potential treatment options.
It was then then that Dr. Farrell introduced John to Khalid Yousuf, M.D., an orthopedic surgeon at LCMH who completed his orthopedic fellowship-training at the Mayo Clinic.
After a consultation with Dr. Yousuf, a personalized treatment plan was created. John was scheduled to undergo a total knee replacement during the summer.
"A total knee replacement serves to replace the entire weight-bearing portion of the knee, removing damaged or worn tissue (cartilage) and replacing part of the joint with a man-made replacement which duplicates the actions of the knee," explained Dr. Yousuf. "Consultation and imaging results confirmed that John was a candidate for a total knee replacement."
Just two hours after surgery, John was up and walking. Patients are encouraged to put their full weight on their knee right away and do as much as they can for themselves to enhance the recovery process. For just three days, John used a walker for stability until he began walking on his own.
"I had no pain or discomfort after surgery," said John. "It was amazing. Dr. Yousuf is marvelous."
While John's daughter, Colleen, a nurse at LCMH, had initial concerns regarding her father's surgery, she and John's family are very happy with the results.
"I was worried about complications due to his age; however, Dr. Yousuf immediately put us at ease," said Colleen. "We couldn't have asked for a better experience and outcome, we have our dad and grandfather back."
John was able to attend his grandson's baseball games after surgery and even walk across the field on his own, something precious to him that he was unable to do before. John is happy to be able to play a more active role in the lives of his four children and four grandchildren.
From Dr. Farrell and Dr. Yousuf to the LCMH physical therapists and home health nurses that John has met in his healthcare journey, he couldn't be happier.
"When you go to someplace else, you are a patient, at Little Company of Mary, you are family. It is a very special place," said John. "Today, I have a new lease on life."
Share Your Story